The Islands of Coiba National Park
Isla Coiba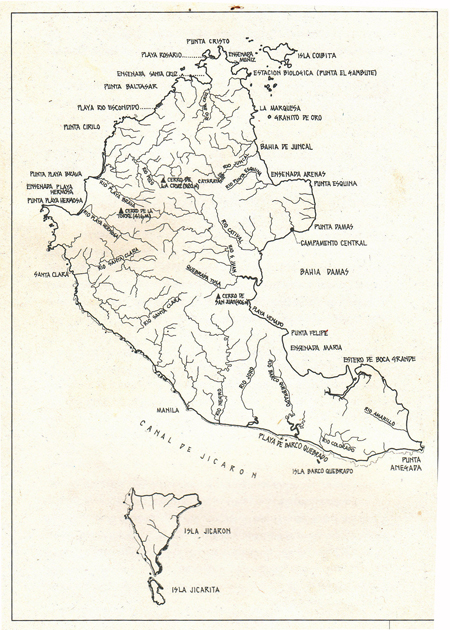 Isla Coiba or Coiba Island is the anchor to the Coiba National Park infrastructure. It is the largest island consisting of 50,314 hectares or 124,320 acres of mostly virgin tropical rainforest. Located approximately 30 miles off the Panamanian cost, Coiba Island is remote and relatively undeveloped with over 80% of its natural habitat intact.
Coiba Island is hilly at its center with a number of rivers draining to the ocean. The largest of the rivers is Rio Negro or Black River. The jungles of Coiba are home to howler monkeys, scarlet macaws, and crested eagles. Because of its isolation and location, it has been noted for its growing number of endemic species.
For bird watchers, Coiba offers 97 of the 147 species of birds found in Coiba National Park. Coiba is a refuge for Crested Eagles and Scarlet Macaws, birds who have virtually disappeared from the rest of the Republic of Panama. Coiba also offers 20 endemic birds species including the Coiba spinetail.
The beaches and waters surrounding Coiba Island offer shelter to four turtle species: leatherback, hawksbill, olive and loggerhead.
Other local species include the Coiba Island Agouti (Dasyproctae coibae), the Mantled Howler Monkey, an opossum and a white-tailed deer. Over 30 varieties of bats call Coiba home.
The North end of the island is the most accessible from the mainland and is the home of the ANAM ranger station. This is the most visited end of the island and home to beautiful white sand beaches with clear water. The close proximity of other islands such as Rancheria and Las Canales makes this a popular playground for divers and day visitors.
The South end of the Isla Coiba is relatively untouched by humans. It offers large waves and pristine beaches. It is a favorite for surfers staying in Santa Catalina who are looking for a memorable ride in without any crowds. It take longer to get to than the North Shore, but offers untarnished nature and easy access to Jicaron just offshore.